Cookie-Einstellungen
Diese Website benutzt Cookies, die für den technischen Betrieb der Website erforderlich sind und stets gesetzt werden. Andere Cookies, die den Komfort bei Benutzung dieser Website erhöhen, der Direktwerbung dienen oder die Interaktion mit anderen Websites und sozialen Netzwerken vereinfachen sollen, werden nur mit Ihrer Zustimmung gesetzt.
Diese Cookies sind für die Grundfunktionen des Shops notwendig.
"Alle Cookies ablehnen" Cookie
"Alle Cookies annehmen" Cookie
Kundenspezifisches Caching
Diese Cookies werden genutzt um das Einkaufserlebnis noch ansprechender zu gestalten, beispielsweise für die Wiedererkennung des Besuchers.
Matches only with "acrisCookie"
Chili con Carne Texas Style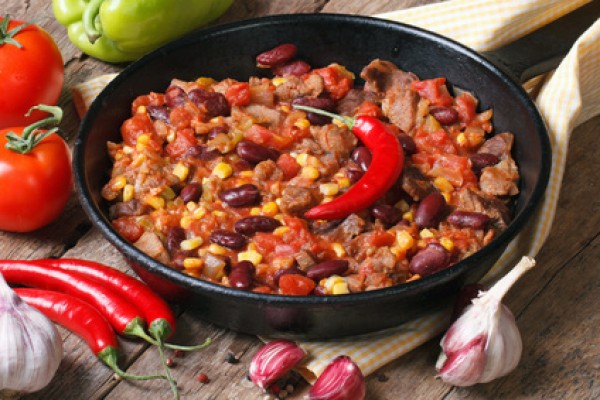 Rezept für Chili con Carne auf Texas Art Das Rezept stammt von Martin Grasinger und...
mehr
Chili con Carne Texas Style
Rezept für Chili con Carne auf Texas Art
Das Rezept stammt von Martin Grasinger und wurde uns freundlicherweise zur Verfügung gestellt. Vielen Dank!

Zutaten für 4 Personen:

-500 g gemischtes Hackfleisch (ohne Rindfleisch 1000 g)
-500 g Rindfleisch (z.B. aus der Schulter)
-180 g grobe Bratwurst
-Schweineschmalz zum Anbraten
-4 EL Öl
-2 Zwiebeln
-4 Knobizehen
-1 EL Rosenpaprika
-1/2 TL Cumin / Kreuzkümmel
-1/4 TL Oregano
-1 TL scharfes Chilipulver (Unsere Vorschläge:Tabascopulver, Habaneropulver)
-1 frische Habanero
-2 frische Jalapeños
-1/2 TL Cayenne-Pfeffer
-420 ml Hühnerbrühe
-400 ml Rinderbrühe
-1 TL Tabasco Red Soße
-Saft einer Limette
-2 (rote) Paprikaschoten
-5 EL Tomatenmark
-3 Dosentomaten à 400 g
-3 Lorbeerblätter
-1-2 EL Rohrzucker
-400 g Kidneybohnen aus der Dose
-200 g Mais aus der Dose
-850 ml Gemüsebrühe oder Rinderbrühe
-1/2 Schwarzbier oder Dunkelbier
-etwas (ein paar Spritzer) Kräuteressig
-5 Stücke Bitterschokolade

Zubereitung:

Das Rindfleisch in Stücke schneiden und im Schweineschmalz scharf anbraten. Die Bratwurst ebenfalls in Stücke schneiden und auch mit anbraten. Alles in einen Topf geben. Wer nur Rindfleisch in Stücken verwendet, braucht das Hackfleisch nicht krümmelig anbraten, da er keins hat. Ansonsten müsst ihr es nun auch braten und in den Topf geben.
Zwiebeln und Knoblauch mit andünsten und zum Fleisch geben. Mit Kreuzkümmel abschmecken und ein paar Minuten köcheln lassen. Das Rindfleisch und der Schmalz geben da ein gute Grundlage. Die Chilis (noch nicht alle) und die Jalapeño mit in den Topf geben und mit Tomatenmark verrühren. Nun alles mit den Tomaten aus der Dose abschmecken und mit der Rinderbrühe aufgießen, bis alles bedeckt ist. Das ganze köchelt nun 2 Stunden vor sich hin und ihr müsst nur ab und zu umrühren und den braunen Spritzern ausweichen, welche Euch nun beim Betreten der Küche um die Ohren fliegen.
Eigentlich könnt ihr nun den ganzen Rest reintun (bis auf die Schokolade, das Bier und die Limetten) und lasst es einfach weiterköcheln. Immer mal abschmecken und eventuell nachwürzen.
Die Schokolade könnt ihr nun kleinhacken und mit in das Chili geben. Durch sie wird der Geschmack abgerundet und angehoben (funktioniert wirklich und schmeckt!). Alles nun mit etwas Limettensaft und Bier würzen und am besten über Nacht stehen lassen.
Am nächsten Tag schmeckt das Zeug noch besser. Die Küche könnt ihr hinterher eigentlich abbrennen oder putzen. Ich hätte sie lieber abgebrannt.
Bildquelle: Fotolia - chili con carne close-up in a frying pan with the ingredients. © FomaA
Inverkehrbringer
Inverkehrbringer
Bewertungen lesen, schreiben und diskutieren...
mehr
Kundenbewertungen für "Chili con Carne Texas Style"
Von:
Marcel K.
Am:
18.06.2015
WOW
Ich sag nur absolut spitze und empfehlenswert!
Habe mein Chili zum ersten mal mit diesen Zutaten gekocht (etwas abgewandelt zb. nur Rinderhack statt dem gemischten und keinen Kümmel und ebenso keine Lorbeerblätter)
Ich hätte niemals gedacht, das Zartbitterchilischokolade so gut in ein Chili passt. Ebenso das Dunkelbier und der Limettensaft ergänzen sich super und am ende blieb ein Geschmacksintensives und sehr leckeres Chili. Zum Glück hab ich direkt 3 kg gekocht!
Wird ab jetzt immer so gemacht, auch wenn der Zeitaufwand etwas höher ist. Lohnt sich auf jedenfall.

Bewertung schreiben
Bewertungen werden nach Überprüfung freigeschaltet.
Rezepte, Infos und Produkte
Themenwelten