Cookie-Einstellungen
Diese Website benutzt Cookies, die für den technischen Betrieb der Website erforderlich sind und stets gesetzt werden. Andere Cookies, die den Komfort bei Benutzung dieser Website erhöhen, der Direktwerbung dienen oder die Interaktion mit anderen Websites und sozialen Netzwerken vereinfachen sollen, werden nur mit Ihrer Zustimmung gesetzt.
Diese Cookies sind für die Grundfunktionen des Shops notwendig.
"Alle Cookies ablehnen" Cookie
"Alle Cookies annehmen" Cookie
Kundenspezifisches Caching
Diese Cookies werden genutzt um das Einkaufserlebnis noch ansprechender zu gestalten, beispielsweise für die Wiedererkennung des Besuchers.
Matches only with "acrisCookie"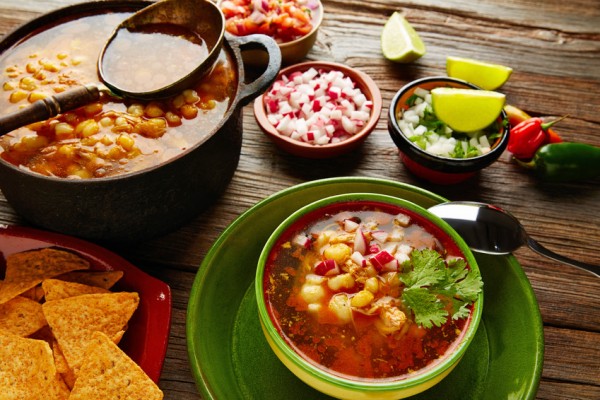 Rezept für den traditionellen mexikanischen Pozole-Eintopf mit Schweineschulter und...
mehr
Mexikanische Pozole
Rezept für den traditionellen mexikanischen Pozole-Eintopf mit Schweineschulter und weißem Mais
Dieser Eintopf mit Schweineschulter, weißem Mais und den typisch mexikanischen Guajillo- und Ancho-Chilis wird in Mexiko traditionell an Weihnachten serviert, aber auch gerne das ganze Jahr über gegessen. Typisch dabei ist, dass bei Tisch jeder nach seinem Geschmack Radieschenscheiben, Avocadostreifen, frischen Koriander, Zwiebeln, frische Kohlstreifen und Limettensaft hinzufügen kann. Wer es schärfer mag, fügt noch entsprechend scharfe Chilis hinzu, denn die Guajillos und Anchos sind relativ mild, geben aber dem Eintopf ihren typischen Geschmack.
Da das Gericht einige Stunden schmoren muss, lohnt es sich, etwas mehr zu machen und liebe Gäste damit zu verwöhnen.
Zutaten für 12 Personen
1,5 kg Schweineschulter (vorzugsweise mit Knochen) oder Eisbein in 1,5 bis 2 cm große Würfel geschnitten
100 g getrocknete Guajillo oder Ancho Chilis oder eine Kombi aus beiden
3 kg Dose weißer Mais (Maiz blanco aus der Mais-Art Cacahuazintle, oder auch Hominy, gibt es im Mexican Food Shop)
8 Knoblauchzehen
½ Zwiebel, geviertelt
3 Lorbeerblätter
1 TL gemahlener Kreuzkümmel
2 EL getrockneter mexikanischer Oregano (dieser ist wesentlich aromatischer als der hier handelsübliche)
Salz

Garnitur (vorbereiten, während die Pozole schmort):
halber Weißkohl, dünn geschnitten
Ein Bündel Koriander, gehackt
½ Zwiebel, fein gehackt
2 Avocados, in dünne Streifen
4 Limetten, geviertelt
ein Bund rote Radieschen, in dünne Scheiben geschnitten
Weizentortillas oder Tortilla-Chips

Zubereitung:
Füllen Sie einen 7,5-Liter Suppentopf zur Hälfte mit Wasser und bringen Sie das Wasser zum Kochen.
In der Zwischenzeit entfernen Sie die Stiele von den getrockneten Chilis und weichen Sie sie in kochendem Wasser für mindestens 15 Minuten ein.
Erhitzen Sie in einer großen Pfanne etwas Olivenöl und braten darin die Schweinefleischstücke auf allen Seiten bei mittlerer Hitze an. Dabei großzügig salzen. Wenn Sie in kleinen Mengen arbeiten, achten Sie darauf, dass Sie regelmäßig umrühren und das Fleisch gleichmäßig von allen Seiten bräunen. Am Ende fügen Sie 4 grob gehackte Knoblauchzehen hinzu und lassen das Ganze noch ca. 1 Minute anschwitzen.
Dann geben Sie alles in den Topf mit dem mittlerweile kochenden Wasser. Achten Sie darauf, alle gebräunten Fetzen hinzuzugeben, damit alle Röstaromen in die Suppe kommen. Dann fügen Sie den unter fließendem Wasser in einem Sieb abgespülten weißen Mais hinzu, ebenso die halbe Zwiebel, die Lorbeerblätter, Kreuzkümmel, Oregano und ein EL Salz. Bringen Sie das ganze zum Kochen und lassen es ca. 15 Minuten auf kleiner bis mittlerer Hitze köcheln.
Jetzt wird die rote Sauce vorbereitet: pürieren Sie die eingeweichten Chilis mit ca. 2 Tassen der Einweich-Flüssigkeit, einem TL Salz und 4 Knoblauchzehen in einem Mixer oder mit dem Zauberstab. Dann passieren Sie die rote Sauce durch ein Sieb und fügen Sie sie der Pozole hinzu. Schmecken Sie den Eintopf mit ein paar weiteren TL Salz ab. Lassen Sie das ganze bei niedriger Hitze ca. 2-3 Stunden sanft köcheln bis das Schweinefleisch ganz zart ist. Schöpfen Sie gegebenenfalls überschüssiges Fett ab.
Schmecken Sie die Pozole erneut mit Salz ab (Sie brauchen wahrscheinlich mehr Salz als Sie erwarten). Die Suppe sollte ziemlich viel Brühe haben, da sich nach dem Servieren jeder individuell das Gemüse hinzufügen kann.
Kurz vor dem Servieren bereiten Sie die Garnitur vor: die Radieschen in dünne Scheiben schneiden, Spitzkohl vierteln und in feine Streifen schneiden, Koriandergrün von den Stielen zupfen. Zwiebel fein würfeln. Limetten vierteln. Alles in Schälchen anrichten und zum Eintopf servieren.
Dazu reichen Sie Weizentortillas oder dünnes Fladenbrot und Tortilla-Chips.
Bildquelle: Fotolia - #102297721 - Pozole with mote big corn stew from Mexico © lunamarina
Inverkehrbringer
Inverkehrbringer
Bewertungen lesen, schreiben und diskutieren...
mehr
Kundenbewertungen für "Mexikanische Pozole"
Bewertung schreiben
Bewertungen werden nach Überprüfung freigeschaltet.
Rezepte, Infos und Produkte
Themenwelten