Cookie-Einstellungen
Diese Website benutzt Cookies, die für den technischen Betrieb der Website erforderlich sind und stets gesetzt werden. Andere Cookies, die den Komfort bei Benutzung dieser Website erhöhen, der Direktwerbung dienen oder die Interaktion mit anderen Websites und sozialen Netzwerken vereinfachen sollen, werden nur mit Ihrer Zustimmung gesetzt.
Diese Cookies sind für die Grundfunktionen des Shops notwendig.
"Alle Cookies ablehnen" Cookie
"Alle Cookies annehmen" Cookie
Kundenspezifisches Caching
Diese Cookies werden genutzt um das Einkaufserlebnis noch ansprechender zu gestalten, beispielsweise für die Wiedererkennung des Besuchers.
Matches only with "acrisCookie"
Iguana Lightning Hot n Spicy Ketchup 720g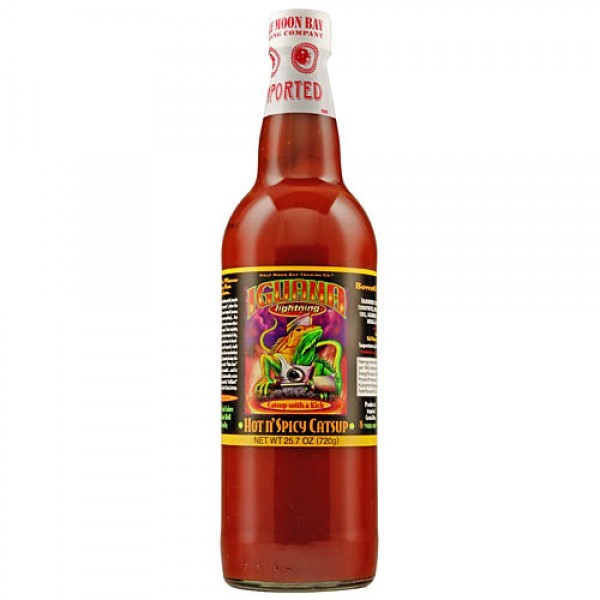 Inhalt:
0.72 Kilogramm (19,43 € * / 1 Kilogramm)
inkl. MwSt. zzgl. Versandkosten
Sofort versandfertig. Lieferzeit: 1-2 Werktage.
Artikel-Nr.:

538

Schärfegrad:

3

Scharf
Verwendungs-
vorschlag:

Ein Genuss zu Nudeln, Burgern, Pommes Frites und Backfisch.
Schluss mit den langweilig-süßen Kinder-Ketchups! Dieser Ketchup rockt:...
mehr
Iguana Lightning Hot n Spicy Ketchup 720g
Schluss mit den langweilig-süßen Kinder-Ketchups!
Dieser Ketchup rockt: Sonnenverwöhnte Tomaten, Karotten, Zwiebeln, Knoblauch und ein paar Stückchen frische Habanero-Chilis machen aus diesem Ketchup ein fruchtig-tomatiges Wunderwerk mit einem leichten Kick.
Lecker auf Hamburgern und Hot dogs, fantastisch zu knusprigen Pommes frites, fein zu Garnelen und wunderbar zu Frikadellen oder Gegrilltem.
In der großen Flasche.
Haltbarkeit/Aufbewahrung
Das aufgedruckte Mindesthaltbarkeitsdatum bezieht sich auf das ungeöffnete Produkt bei ungekühlter Lagerung. Nach dem Öffnen ist das Produkt bei einer Lagerung unter 7 Grad mindestens 6 Monate haltbar.
Tomatenkonzentrat (Wasser und Tomatenmark), Rohrzucker, Branntweinessig, Salz, Habanero Chili,...
mehr
Zutatenliste*
Tomatenkonzentrat (Wasser und Tomatenmark), Rohrzucker, Branntweinessig, Salz, Habanero Chili, Karotten, Zwiebeln, Gewürze, Zitronensaft, Knoblauch, Ascorbinsäure (Vitamin C)
Nährwerte
Brennwert kJ / kcal
418,4 / 100
davon gesättigte Fettsäuren
0,0g
* Lt. Herstellerangaben und ohne Gewähr unsererseits. Bitte beachten Sie stets die Nährwerte auf dem Produkt.
Inverkehrbringer
Inverkehrbringer
Inverkehrbringer
Anschrift:
Holzweg 16
67098 Bad D&uumlrkheim
Deutschland
Bewertungen lesen, schreiben und diskutieren...
mehr
Kundenbewertungen für "Iguana Lightning Hot n Spicy Ketchup 720g"
Von:
Die Brüder Z.
Am:
14.04.2016
Besser geht nicht...
Nach Empfehlung vom Herr`n Dietz gleich Bestellt.

Gleich nach der Lieferung mussten wir das Ketchup Probieren.

Wow, was für ein fruchtige Tomatige Geschmack... da können einige Namhaftige Ketchup-Hersteller eine Scheibe davon abschneiden.

Wir wirden weiterhin diese Ketchup besorgen, auch wenn`s Preislich etwas Teuer erscheind... der Preis ist es wird!!!
Von:
Thomas W.
Am:
19.06.2015
Geschmacksänderung
Ich (und auch andere Bekannte) waren lange Zeit begeistert von diesem Ketchup, aber bei der letzten Sendung kamen Flaschen, die "anders" geschmeckt haben. Im Flaschenhals sah man auch, das die Farbe des Ketchups dunkler war. Ich finde, das man bei solch einem Preis mehr auf die Qualität achten sollte.
Vielleicht ist es auch möglich eine Qualitätskontrolle direkt bei Chili Food einzurichten, dann wäre dies bestimmt aufgefallen.
Von:
stefan s
Am:
30.01.2015
mehr!!!
best ever, hab grad 2 grosse und 4 kleine flaschen auf vorrat bestellt. Peace
Von:
Thomas W.
Am:
04.08.2013
Schon wieder AUSVERKAUFT !!!
Zu "tomatig", zu sehr nach Tomate ??????????????
Nach was soll denn ein Tomatenketchup schmecken???
Meine Verwandtschaft, Bekanntschaft und meine Arbeitskollegen bestellen diesen Ketchup regelmäßig bei mir mit. Auch Personen, die gar nichts scharfes essen, sind von ihm begeistert, denn die Schärfe liegt eher zwischen 1 und 2.
Er ist dauernd Ausverkauft, das sagt ja auch einiges über seinen Geschmack aus.
Wenn er länger haltbar wäre, würde ich eine ganze Palette bestellen!
Hoffentlich hat Chili Food ihn noch recht lange im Programm, ich wüsste nicht wo ich sonst einen Ketchup ähnlicher Qualität und Geschmaks herbekommen sollte.

Von:
Patrick G.
Am:
26.06.2013
Old skool Ketchup
Mir persönlich ZU tomatig, zu süß und wenig sonstiges Aromatik.
Der Ketchup schmeckt (ist ?) wahrscheinlich wirklich so wie früher (back in da´ good ol´ days hehe) , als die Lebensmittel-Industrie noch nicht die ganzen miesen Geschmacksverstärker und Zusätze von heute kannte !
Aber man kriegt aus der Glasflasche - wie früher !!! - eben nix raus, wenn sie frisch aus dem Kühlschrank kommt.
Back to the 70´s halt.
DAS IST BESTIMMT NICHT MEIN LIEBLINGS-KETCHUP - HEUTE !!!!
Von:
Christian-André
Am:
11.06.2013
TOP!
Wahnsinn! Natürlich und fruchtig im Geschmack - keine übertriebene Schärfe; wer es schärfer mag, der greift besser in der Abteilung "Hot Sauce" zu - oder hat keine Ahnung! Mehr braucht ein Ketchup einfach nicht…
Von:
Siggi Sch.
Am:
17.05.2013
Sehr lecker, fruchtig und nicht zu scharf
Das Ketchup ist schön fruchtig, leichte Schärfe. Hat sogar meiner Frau, die sonst nichts scharfes isst, geschmeckt
Von:
Thomas W.
Am:
06.05.2013
Erinnerungen an früher
Ich kann das genörgel nicht nachvollziehen, das er zu schwach ist. Es sollte ja für jeden Feuerfresser was dabei sein und der ist halt für die schwächere Fraktion. Dafür ist er im Geschmack hervorragend (und deswegen wohl auch so oft ausverkauft). Er erinnert mich an die Ketschup's vor Jahrzehnten, als die Tomatensoße noch nach Tomate schmeckte und nicht nach Zucker! Ich esse auch gerne etwas schärfer, aber dieses Produkt darf bei mir nicht ausgehen.
Von:
Matthias Schulte
Am:
30.05.2012
Super schnelle Lieferung!
Produkt Top!
Sehr Lecker.
Gerne wieder!!
Von:
sebastian eisenmann
Am:
09.04.2012
Sehr lecker bestes Ketchup was ich jemals probiert habe =D
Von:
Marc de Pouplana
Am:
19.03.2012
Ich bin kein Ketchup-Fan, aber diese Sauce hat Suchtpotential. Ideal für den täglichen Gebrauch!
Von:
Thorsten Schulze
Am:
13.02.2012
Bisher habe ich noch keinen Tomatenketchup gegessen mit mehr tomatig-fruchtigem Geschmack! Auch die Hintergrundwürze stimme!
Von:
Marc Nöcker
Am:
03.02.2012
Nie wieder anderen Ketchup.ganz leicht schärfer sehr fruchtiger Geschmack.Einfach lecker!!!!!
Von:
Ronny Geiler
Am:
16.01.2012
sehr leckerer Ketchup, angenehme Schärfe ...
kann man nur weiter empfehlen.
Von:
Denis Grauberger
Am:
28.12.2011
Der Ketchup ist nicht gut, aber auch nicht schlecht. Ist halt ein Ketchup den ich jedem, der nicht gerne scharf ist, empfehle.
Von:
Christoph Uhde
Am:
17.12.2011
Totaler Reinfall!

Von der Schärfe her. Dafür ist der Ketchup extrem lecker und der mit Abstand beste, den ich bisher hatte.
Von:
Ado Recktenwald
Am:
15.12.2011
Aufgrund der guten Empfehlungen testweise gekauft und wie zu 99% hier auch wieder nicht auf die Nase gefallen. Schärfegrad eigentlich nicht der Rede wert, aber geschmacklich ein echtes Highlight. Sogar meine Freundin steht drauf :-)
Von:
Georg Osthaus
Am:
25.11.2011
Das absolut leckerste Ketchup, was ich je hatte!
Von:
Marco Hemm
Am:
15.10.2011
Von:
Thomas Jakob
Am:
06.10.2011
Dieser Ketchup ist sehr gut,er hat ein außergewöhnlichen runden Geschmack im Gaumen und die Zutatenzusammensetzung ist hervorragend.

Von:
Harald Lang
Am:
27.09.2011
Nicht schlecht, milde Schärfe aber etwas zuviel Geschmack nach Tomatenkonzentrat
Von:
Marcos de Pouplana van Acken
Am:
09.09.2011
Schärfe ist definitiv 0, aber das tut dem sensationellen Geschmack keinen Abbruch. Wem\'s zu unscharf ist behelfe sich mit Habanero-Pulver.

Netter Nebeneffekt: meine Freundin hat sich spontan in das Catsup verliebt und wird nicht mehr meckern wenn ich bei euch Haus und Hof lasse :)
Bewertung schreiben
Bewertungen werden nach Überprüfung freigeschaltet.
Rezepte, Infos und Produkte
Themenwelten