Cookie-Einstellungen
Diese Website benutzt Cookies, die für den technischen Betrieb der Website erforderlich sind und stets gesetzt werden. Andere Cookies, die den Komfort bei Benutzung dieser Website erhöhen, der Direktwerbung dienen oder die Interaktion mit anderen Websites und sozialen Netzwerken vereinfachen sollen, werden nur mit Ihrer Zustimmung gesetzt.
Diese Cookies sind für die Grundfunktionen des Shops notwendig.
"Alle Cookies ablehnen" Cookie
"Alle Cookies annehmen" Cookie
Kundenspezifisches Caching
Diese Cookies werden genutzt um das Einkaufserlebnis noch ansprechender zu gestalten, beispielsweise für die Wiedererkennung des Besuchers.
Matches only with "acrisCookie"
Inhalt:
0.3 Kilogramm (19,97 € * / 1 Kilogramm)
inkl. MwSt. zzgl. Versandkosten
Sofort versandfertig. Lieferzeit: 1-2 Werktage.
Bio Chia Saat (Salvia hispanica L.), Rohkostqualität wurde bereits von den Azteken...
mehr
Chia Samen, Bio, Rohkost
Bio Chia Saat (Salvia hispanica L.), Rohkostqualität
wurde bereits von den Azteken und Mayas in Lateinamerika angebaut.
Die von uns vertriebene Marke steht für eine gleichbleibende, verlässliche Qualität. Unsere Chia Saat wird in Südamerika angebaut, von Spezialisten mit besonderem KnowHow und unter Verzicht auf jegliche Art von Pflanzenschutzmitteln.
Die Produktion läuft von der Aussaat bis zur Verarbeitung nach strengen Qualitätskriterien ab, die mehrstufigen kontrolliert werden. Dies garantiert Ihnen ein erstklassiges Produkt, aus dem Sie einen optimalen Nutzen ziehen können.
Wissenswertes über Chia Samen:
Chia ist eine reichhaltige Quelle an OMEGA-3 und OMEGA-6 Fettsäuren, essentiellen Aminosäuren, Vitaminen, Mineralien, Ballaststoffen und Antioxidantien.
Die FDA ( Food and Drug Administration) betrachtet Chia Saat oder Chia Samen als gesundes, diätetisches Lebensmittel. In einer Ernährung die gekennzeichnet ist durch denaturierte Lebensmittel, helfen ursprüngliche Lebensmittel wie Chia das Gleichgewicht im Körper wieder herzustellen und dem Körper die Stoffe zu liefern die er braucht.
Für Kinder und Erwachsene ist der Konsum von essentiellen Fettsäuren unentbehrlich. Bei Babys fördern Omega 3 Fettsäuren die Gehirnentwicklung und sollten währed der Schwangerschaft und Stillzeit in ausreichendem Maß von der Mutter mit der Nahrung aufgenommen werden. Das in der Chia Saat enthaltende Öl liefert OMEGA-3 und 6 Fettsäuren in einem optimalen Verhältnis von 3:1.
Der Verzehr von Chia steigert durch seine Eigenschaften die Konzentrationsfähigkeit und sorgt für eine mentale Ausgeglichenheit, gerade auch bei Kindern und Jugendlichen
Eine weitere herausragende Eigenschaft von Chia ist die Fähigkeit zur 7-12 fachen Wasseraufnahme des Eigengewichtes. Die Formung eines Polysaccharid-Gels aus Faser- und Ballaststoffen verhindert den vorzeitigen Abbau der Kohlenhydrate durch die Enzyme im Magen und reguliert somit den Blutzuckerspiegel. Der Körper wird über längere Zeit mit Energie versorgt.
Wenn Chia Samen in Wasser eingelegt werden, bilden die Körner eine schleimige Polysaccharidschicht, die ähnlich wie bei Leinsamen die Verdauung fördert. Kunden berichten uns, dass ein Glas Orangensaft (oder auch Apfelsaft) mit einem Teelöffel zuvor eingeweichter Samen gemischt, als Frühstück bis zum Mittag satt hält.
Sportler und Veganer profitieren vom hohen Anteil an hochwertigen Proteinen mit den lebensnotwendigen Aminosäuren

Chia ist gluten- und cholesterinfrei und leicht bekömmlich

Chia hat einen guten und natürlichen Geschmack
Gleichwohl Chia in Südamerika seit Urzeiten als Nahrungsmittel für den täglichen Bedarf Verwendung findet, ist Chia Saat, wegen der NV Verordnung, in der EU offiziell nur als Backzutat für Broterzeugnisse zugelassen (bis 10%). Als solche wird der Chia Samen von uns verkauft.
Der Hintergrund für diese Verwendungsform liegt in der Beantragung des Erstantragsstellers in Irland. Dieser hat einen Mühlenbetrieb und wollte die Chia Saat speziell für die Brotbackmischungen einsetzen. Alle Studien und das Genehmigungsverfahren waren auf diese Verwendung hin ausgerichtet. Andere Verwendungen als Nahrungsergänzungsmittel oder als Lebensmittelzutat z.B. in Müslis, Riegel, Joghurt oder als Öl, werden damit in der Zukunft nicht generell ausgeschlossen, sondern sind aktuell nicht mit den geforderten wissenschaftlichen Studien belegt, und werden auf eigenes Risiko hin konsumiert.

Vitalstoff-Vergleich Chia Samen mit anderen Lebensmitteln
100g Chia hat soviel Ballaststoffe wie ca. 400g Leinsamen
100g Chia hat soviel Eisen wie ca. 400g Spinat
100g Chia hat soviel Calcium wie ca. 500ml Milch
100g Chia hat soviel Antioxidantien wie ca. 900g Orangen
100g Chia hat soviel Omega-3 Fettsäuren wie ca. 1 Kilo Lachs!
In folgenden Größen erhältlich: 300g, 600g und 1000g

HINWEIS: Eine tägliche Aufnahme von 15 g darf nicht überschritten werden. Laut Durchführungsbeschluss der Kommission vom 22.01.2013 über die Genehmigung einer Erweiterung der Verwendungszwecke von Chiasamen als neuartige Lebensmittelzutat gemäß der Verordnung (EG) Nr. 258/97 des Europäischen Parlaments und des Rates, darf die Verwendung nicht mehr als 10% Chiasamen bei Backwaren, Frühstückscerealien, Mischungen aus Früchten, Nüssen und Samen betragen.
Die angegebene, empfohlene tägliche Verzehrmenge darf nicht überschritten werden. Nahrungsergänzungsmittel sind kein Ersatz für eine ausgewogene und abwechslungsreiche Ernährung. Bitte lagern Sie dieses Produkt außerhalb der Reichweite von Kindern! Falls Sie Medikamente einnehmen oder in ärztlicher Behandlung sind, sollten Sie vor der Einnahme jeglicher Nahrungsergänzungsmittel Ihren Arzt zu Rate ziehen.
Nährwerte
Brennwert kJ / kcal
1955 / 475
davon gesättigte Fettsäuren
3,2g
* Lt. Herstellerangaben und ohne Gewähr unsererseits. Bitte beachten Sie stets die Nährwerte auf dem Produkt.
Inverkehrbringer
Inverkehrbringer
Inverkehrbringer
Name:
Pural Vertriebs GmbH
Anschrift:
Kiefernstraße 11
76532 Baden-Baden
Deutschland
Bewertungen lesen, schreiben und diskutieren...
mehr
Kundenbewertungen für "Chia Samen, Bio, Rohkost"
Bewertung schreiben
Bewertungen werden nach Überprüfung freigeschaltet.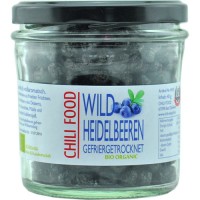 Bio Wild-Heidelbeeren ganz gefriergetrocknet...
Inhalt
0.04 Kilogramm
(149,75 € * / 1 Kilogramm)