Für die Filterung wurden keine Ergebnisse gefunden!
10+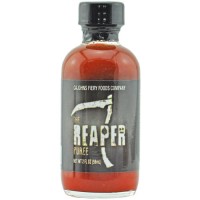 The Reaper Puree
The Reaper Puree von Cajohns ist eine der schärfsten Soßen ohne Extrakt, die zur Zeit auf dem Markt sind. Wahrscheinlich gibt es auch keine puristischere Soße, denn sie besteht lediglich aus Carolina Reaper Chilis und...
Inhalt
59 ml
(32,19 € * / 100 ml)
7
La Segadora (Reaper) Hot Sauce
Die La Segadora (Reaper) Hot Sauce ist eine würzige Taco-Style Sauce mit 5 verschiedenen Chilisorten. Rote Serrano, Carolina Reaper, Cayenne, Ghost und Ancho Chili geben der Sauce einen herrlich runden und erdigen Geschmack.
Inhalt
148 ml
(8,10 € * / 100 ml)
5
Aji Amarillo Sauce -BIO-
Die feurig-fruchtige Latina. Wir bringen das Wesen der Chili in die Flasche: Unsere Chili Food Saucen schmecken wie frische Chilis. Unverfälscht, pur und natürlich Bio. In Südamerika wird die Aji Amarillo wegen...
Inhalt
185 ml
(3,24 € * / 100 ml)