Cookie-Einstellungen
Diese Website benutzt Cookies, die für den technischen Betrieb der Website erforderlich sind und stets gesetzt werden. Andere Cookies, die den Komfort bei Benutzung dieser Website erhöhen, der Direktwerbung dienen oder die Interaktion mit anderen Websites und sozialen Netzwerken vereinfachen sollen, werden nur mit Ihrer Zustimmung gesetzt.
Diese Cookies sind für die Grundfunktionen des Shops notwendig.
"Alle Cookies ablehnen" Cookie
"Alle Cookies annehmen" Cookie
Kundenspezifisches Caching
Diese Cookies werden genutzt um das Einkaufserlebnis noch ansprechender zu gestalten, beispielsweise für die Wiedererkennung des Besuchers.
Matches only with "acrisCookie"
Pepper King Habanero Chips
Achtung - diese Chips haben Suchtpotenzial! Knusprig, scharf und mit dem vollen...
mehr
Pepper King Habanero Chips
Achtung - diese Chips haben Suchtpotenzial!

Knusprig, scharf und mit dem vollen Habanero-Geschmack.
Die Pepper King Habanero Chips sind etwas dicker als gewöhnliche Chips und sehr knusprig. Der Geschmack ist würzig, nach Paprika und mit einem Hauch von Rauch. Feuriges Habanero-Pulver und eine ganz dezente Süße runden das Gesamtbild ab.
Die Pepper King Habanero Chips werden mit viel Sorgfalt in einem kleinen Familienbetrieb in Deutschland produziert. Dabei kommen nur beste Zutaten aus kontrolliertem Anbau zum Einsatz. Die Kartoffeln werden sorgfältig ausgesucht, gewaschen und mit der Schale in feine Scheiben geschnitten. Die Kartoffelscheiben werden dann schonend in großen Kesseln in bestem Sonnenblumenöl ausgebacken und mit der speziell für Pepper King entwickelten Gewürzmischung verfeinert. Fehlerhafte Chipsscheiben werden von Hand aussortiert, damit für Sie nur die beste Qualität in der Tüte landet.
Unser Fazit zu den Pepper King Habanero Chips: Keine Kopie der bekannten USA-Chips, sondern ein eigenständiges Produkt, das sich nicht verstecken muss. Kaufempfehlung !
Haltbarkeit/Aufbewahrung
Das aufgedruckte Mindesthaltbarkeitsdatum bezieht sich auf das ungeöffnete Produkt bei ungekühlter Lagerung. Nach dem Öffnen ist das Produkt innerhalb von 2 Tagen zu verbrauchen.
Kartoffeln, Sonnenblumenöl, Speisesalz, Paprika, Gewürzextrakte, Habanero Chili, Zucker,...
mehr
Zutatenliste*
Kartoffeln, Sonnenblumenöl, Speisesalz, Paprika, Gewürzextrakte, Habanero Chili, Zucker, Knoblauch, natürliches Aroma, Rauch.
Nährwerte
Brennwert kJ / kcal
2042 / 489
davon gesättigte Fettsäuren
4,4g
* Lt. Herstellerangaben und ohne Gewähr unsererseits. Bitte beachten Sie stets die Nährwerte auf dem Produkt.
Inverkehrbringer
Inverkehrbringer
Bewertungen lesen, schreiben und diskutieren...
mehr
Kundenbewertungen für "Pepper King Habanero Chips"
Von:
Maria
Am:
07.01.2021
Top Produkt, Dauerrenner bei mir!
Ich kann nicht aufhören diese Chips zu essen, sie sind mein absoluter lieblings Snack geworden! - Für mich passt der Schärfegrad der angegeben ist zur Realität. Knusprig, frisch und feurig!
Von:
John Steed
Am:
29.08.2020
Nicht mehr, was es mal war
Leider muss ich mich den Kritikern anschliessen:
- Nicht mehr so viel Rumms, wie früher (okay da kann man zum Glück nachhelfen).

- Komischer, säuerlicher Abgang.

Von:
Simon
Am:
15.08.2020
Sehr lecker, könnten schärfer sein!!!
Geschmacklich Top, scharf sind sie aber nicht (eine 3 für mich)!!! Die Habanero Chips der Hausmarke sind DEUTLICH schärfer (in etwa eine 5-6) die Brennen schon gut :)
Von:
Falko
Am:
12.02.2020
Kein Vergleich zum alten Rezept
Dir frühere Version hatte ordentlich Schärfe, nach einer Tüte reichte es.
Bei der aktuellen Version, fehlt doch einiges an Schärfe. Gebe Max.4 von 10. Geschmacklich gefallen sie mir gut, es gibt keine Alternativen außer man macht sie selber.
Von:
Kathrin
Am:
23.11.2019
tolle Schärfe
diese Sorte habe ich schon mehrmals gekauft, weil ich die verdammt lecker finde. Gut gewürzt und nicht zu salzig.
Von:
Sontraud
Am:
31.10.2019
Zu mild
Der Geschmack und die kunsprigkeit sind super aber com schärfegrad können die mich absolut nicht überzeugen. Schärfe ist vlt bei 3/10
Von:
Pascal
Am:
11.08.2019
Lecker im Geschmack, aber leider wenig scharf
Von:
Braincrawler
Am:
25.03.2019
Schmackhaft und schön scharf
Ich kann mich nur den vielen, positiven Bewertungen hier anschließen. Die Chips sind zum einen recht scharf aber zum anderen noch sehr schmackhaft. Die Schärfe übersteuert also nicht das kartoffelige Aroma. Die Chips sind von der Schärfe her auch noch für untrainierte Geschmacksnerven gut essbar.
Von:
Roland
Am:
05.11.2018
Super
Habe diese Chips ja schon öfters bestellt und die sind meiner Meinung nach einfach die besten, Keine Chips die einen Weltrekord in Schärfe brechen wollen sondern einfach schön scharf (kein Vergleich zu Supermarkt Chili-Chips), außerdem schmecken sie schön würzig rund , den schon mehrfach erwähnten Knoblauch-Geschmack schmecke ich jetzt nicht. Werden definitiv immer wieder mit bestellt, Danke Chili Food
Von:
Maria
Am:
28.02.2018
lecker und scharf!
habe diese Chips von einem Kollegen angeboten bekommen, mein erster Blick ging auf die Zutaten, keine Geschmacksverstärker! also probiere ich mal ... :) hammer Geschmack, würzig, nach den ersten 5 Stück kommt die Schärfe richtig gut bei mir an, Stufe 8 macht Sinn und süchtig! :D
Von:
Marcel F
Am:
10.09.2017
Nöh
Also entweder bin ich die hauseigenen Habanerochips zu sehr gewöhnt oder die von Pepper King schmecken einfach nicht.

Auch wenn laut Liste der Inhaltsstoffe kein Knoblauch auftaucht, dringt ein solcher Geschmack ungewöhnlich stark hervor und der Rauchgeschmack stört mehr als dass er förderlich wäre. Mir schmeckts einfach nicht.

Von der Konsistenz bzw. Knusprigkeit her sind die aber völlig in Ordnung.
Von:
Klaus97497
Am:
15.08.2017
Die oder keine.
Die oder keine.
Alles andere ist Ersatz !!!!!!!
Von:
Marcel
Am:
16.07.2017
Die Jacobs Krönung unter den Chips
Bestelle diese Chips jetzt zum wiederholten Mal und bin einfach begeistert von der Konstanz der Schärfe und des Geschmacks. Einfach perfekt!
Von:
veardy
Am:
29.05.2017
Die schärfsten Chips, die ich je gegessen habe
Hallo,

also ganz zu schweigen von der reibungslosen Lieferung von chilli-shop muss ich auf die Einzigartigkeit dieser Chips hinweisen.

Sie sehen allein optisch schon sehr rot-würzig aus und auch der Geruch riecht schön würzig. Die Kartoffelchips sehen sehr natürlich aus und sind schön knusprig.

Die Chips schmecken wirklich gut. Sie haben eine schöne Note Paprika und Barbeque, wobei das Knoblauchgewürz noch einmal für einen Würzkick sorgt.

Die Schärfe ist schon nach einem Chip leicht im Hals zu spüren. Nach zwei oder drei Chips fängt es schon an in der Zunge zu brennen und nach 7-8 nach ein paar Sekunden schon der ganze Mund. Das Brennen hält für mehrere Minuten an, ist scharf aber noch erträglich.

Aber für Chips ist diese Schärfe im Vergleich zu allen anderen Chips in den Supermärkten wirklich phänomenal.

Für Chilliliebhaber wird es ein Genuss sein, diese Chips zu essen.

Alles Gute
Von:
Hardy
Am:
27.05.2017
Nicht so gut, wie erwartet
Vorweg: Ich bin kein Chillihead, habe also keine extreme/trainierte Schärfetoleranz.

Ich habe mir die Chips gekauft, weil ich nach einer Alternative zu den Chips aus den Discountern gesucht habe, die nicht viel von dem versprechen, was auf der Verpackung steht.

Die Lieferung verlief reibungslos, an der Stelle ein großes Lob an chilli-shop24. Doch die Chips habe ich qualitativ überbewertet.

Sie sind ziemlich fettig und daher nicht so knusprig, wie ich von Kessel-Chips eigentlich gewohnt bin.

Schon der Geruch ist für mich zu stark nach Paprika und erinnert eher an die ungarischen Paprikachips von funny frisch als an eigenständige Habanero-Chips. Diese Erwartung hat sich auch im Geschmack gedeckt. Es kommt nur Paprika und ein starker Nachgeschmack nach Knoblauch durch, aber nicht viel von der Habanero. Ist zwar meine Geschmacksempfindung, aber wenn in der Beschreibung steht: "Mit vollem Habanero-Geschmack" ...

Von der Schärfe her sind sie nicht extrem scharf, wie auf der Packung steht. Ok es brennt etwas im Hals, während man die ersten Chips ist, aber das Brennen ist eher leicht, im Mund passiert zunächst nicht viel. Erst nachdem man ungefähr eine kleine Schale voll gegessen hat, kommt erst im Mund die Schärfe an. Die ist nicht stark, sondern erinnert eher an die normale Schärfe einer roten Chilli, zwar ein Schärfegrad, den die meisten anderen "Chilli" Chips im Supermarkt nicht bieten können, aber lange nicht extrem scharf.

Jedenfalls deckt sich meine Erfahrung nicht mit denen der anderen

Ich würde mir noch mehr Knusprigkeit wünschen (weniger fett) und weniger Paprika und Knoblauch Geschmack, sondern eher ein Sweet-Chilli Geschmack mit Kräutern, da würde die Schärfe besser zu passen. Meiner Ansicht nach passt einfach dieser Paprika-Knoblauch Geschmack nicht zu der Schärfe.

Ich werde die Chips zukünftig nicht mehr kaufen und warne davor, nicht zu viel von diesen Chips zu erwarten.
Von:
Christian Schneider
Am:
21.05.2017
Scharf und lecker
Die Chips liegen geschmacklich näher an den Chips, die wir aus dem Supermarkt kennen.. Oriental, Sweet, irgendwie typisch überwürzt. Also eher "mainstreamig". Dabei haben sie aber richtig Feuer.
Wer also ein kommerzielles Gegenstück zu den eher ursprünglichen Habanero Chips nach Art des Hauses sucht, wird hier fündig.
Schmecken tun sie allemal.
Von:
Michael
Am:
16.03.2017
Super
Die Chips schmecken super und die Schärfe ist schön stark. Genau das was ich gesucht habe.
Von:
Sheena Johe
Am:
15.01.2017
Ausgezeichnet
Die Verpackung ist sehr einfach und nicht gerade zeitgemäß gestaltet.
Davon darf man sich aber nicht täuschen lassen. Die Chips sind absolut hochwertig und sehr lecker.
Von:
Kevin Mohr
Am:
03.01.2017
Einfach wunderbar!
Sehr scharfe Chips und hochwertige, natürliche Zutaten. Einfach perfekt!
Gute Schärfe, leichte Schinken Note
Die Chips haben eine ordentliche Schärfe und einen leichten 'Schinken' Geschmack. Wer es 'knackig' mag der ist hier genau richtig.
Von:
Pascal
Am:
07.06.2016
Sehr lecker,gute Konsistenz und schön Scharf
sehr lecker und ordentlich bissig und knackig. Die Schärfe ist für mich jedenfalls, einem der schärfe leibt sehr gut verträglich. Andere werden denke ich viel merken, aber einfach nur top gemacht!
Von:
Markus
Am:
27.05.2016
Von:
Dominik F.
Am:
31.01.2016
gut zu essen
Die Chips sind schön knackig und haben eine gute schärfe. Geschmacklich eher süßlich, wie Habanero so halt schmecken. Die Schärfe im Mund ist ca.5min nach dem letzten Biss nicht mehr zu spüren, und von daher sehr angenehm zu essen.
Von:
Markus Z.
Am:
05.12.2015
#knackig #feurig
Habe sie gekauft und in einer Runde leicht-scharf essender Leute herumgehen lassen, ich war der einzige der nach einem Chip weitergegessen hat.
Der Schärfegrad liegt meiner Meinung nach etwas über dem der Chili Food Habanero Chips, allerdings sind sie mir eetwas zu süßlich.
Von:
Andreas K.
Am:
29.07.2015
Lecker
Die Chips scmecken sehr lecker und haben eine schöne Schärfe. Bei dem Schärfegrad futtert man auch nicht gleich die ganze Tüte ;)
Von:
Nathalie
Am:
21.06.2015
Sehr lecker
Super leckerer Geschmack der süchtig macht. Schärfe ist weder zu stark noch zu mild, einfach angenehm.
das leckerste Feuer
Ich schließe mich an - nach dem ersten merkt man noch nicht so viel, aber nach dem dritten, langsam gegessen, wird es heiss. Wirklich heiss. Vorsicht, wo man mit den Fingern hingeht nach Kontakt mit dem Habanero-Pulver, z.B. wenn man damit in die Nähe der Augen oder Augenlider kommt. Und sie schmecken auch noch wirklich richtig gut, nach Chili, Pfeffer und Paprika. #addict
Teambuilder
...endlich ein richtig scharfer Chips! Ha be bei der wöchentlichen Teamrunde ohne Kommentar auf den tisch getan, die Kollegen haben natürlich vorsichtslos draufgesprungen. Es war eine sehr "traurige" Runde, haben vielen geweint :-)
Von:
Sascha A.
Am:
05.04.2015
#Knackig #Lecker #IchWillMehr
Zu den Chips: Die sind wirklich sehr lecker, nicht zu dünn sondern ordentlich bissig und knackig. Die Schärfe ist sehr gut verträglich. Das heißt man kann diese Chips essen, ohne eine Pause einzulegen. Mir jedenfalls schmecken sie echt gut. Und was ich lobenswertes noch dazu sagen kann, ist das auf der Verpackung steht in welchem Kessel diese gemacht worden sind und von vor allem von wem. Klar es nützt einem so nichts, aber bei Beanstandungen eine super Sache. Eine klare Kaufempfehlung!
Von:
Hartmut Dütsch
Am:
17.03.2015
lecker..!!
Echt tolles Produkt. Knackige Kartoffelchips, "schöne" schärfe.
Allerdings, das "Kartoffel-grund-produkt" könnte besser sein.
Siehe Chips von "REWE - feine Welt", die nehmen für ihre Chips Kartoffeln aus Bayern/Schweiz, und dort sind alleine schon die Chips lecker, egal welche Sorte man nimmt.
Dieses Produkt hier, aber auch gerne wieder!
Von:
Giulia
Am:
07.03.2015
GENIAL
die besten Chips, die ich je auf der Welt gegessen habe! Nach einer Chip super guter Geschmack, nach mehreren brennt es teilweise echt wie die Hölle! Endlich mal richtig scharfe Chips! Kaufe nur noch die und ich bin süchtig nach denen!
Von:
Stefan
Am:
15.02.2015
Super Chips
Chips haben einen super Geschmack und sind schön knusprig. Die Schärfe ist für mich genau richtig.
Von:
Harald
Am:
13.01.2015
Endlich mal was, was auch wirklich scharf ist
Ich mag keine Produkte auf denen "scharf" steht und flau drin ist. So ging es mir mit allem was im normalen Supermarkt erscheint- egal ob scharf/hot/extreme drauf stand.
Drei Chips gegessen und danach nichts mehr gemerkt.
Dieses Produkt ist endlich mal wirklich scharf. Ich muss nicht mehr in die Küche zum nachwürtzen.
Angenehm
Nicht brutal scharf, aber durchaus angenehm. Für Normalkonsumenten wahrscheinlich zu scharf. Isst man sonst gerne scharf, jedoch ausgewogen und geschmacklich empfehlenswert. Geschmacklich finde ich die weniger scharfe Variante noch ein Stück besser. Diese ist jedoch auch weit weniger scharf.
Von:
Ritchie
Am:
16.12.2014
Schön Scharf
Nach einigen Chips stellt sich die Schärfe ein. Guter Geschmack und gute Schärfe, gefällt mir sehr gut
Von:
Dr. Wolfgang Wansleben
Am:
25.11.2014
Mittlere Schärfe. Sind mir etwas zu süß
Von:
timmy M
Am:
23.11.2014
Nettes Produkt
die chips sind echt scharf man isst ein chips und denkt sich naja geht so aber nach ein paar chipf brennt der mund ganz gut.das erwarte ich auch bei Habanero chips;)
sie haben ein räucher grill geschmack und das gefällt mir..vielen dank
Bewertung schreiben
Bewertungen werden nach Überprüfung freigeschaltet.
Rezepte, Infos und Produkte
6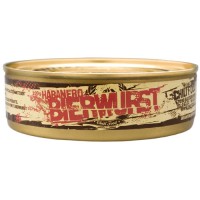 Habanero Chili Bierwurst
Unsere Habanero Chili Bierwurst wird aus bestem schlachtfrischen Schweinefleisch hergestellt - und ist herzhaft, deftig und pikant gewürzt. Frische Senfsaat gibt der Bierwurst ihren unverwechselbaren und leckeren Geschmack. Die...
Inhalt
0.2 Kilogramm
(19,95 € * / 1 Kilogramm)
6
Jumbo Mais geröstet mit Habanero
Unser Jumbo Mais wird mit Pflanzenöl geröstet und mit Salz und feuriger Habanero Chili verfeinert. Scharfer und sehr würziger und knuspriger Snack.
Inhalt
0.08 Kilogramm
(49,88 € * / 1 Kilogramm)
5
Da Bomb Green Habanero Salsa Verde
Die Da Bomb Green Habanero Salsa Verde ist eine verwegene Mischung aus grünen Jalapenos, grünen Habaneros und einem Hauch von Limette. Die Schärfe ist lang anhaltend und angenehm. Perfekt für Tortilla-Chips und...
Inhalt
0.465 Liter
(17,18 € * / 1 Liter)
Themenwelten