Cookie-Einstellungen
Diese Website benutzt Cookies, die für den technischen Betrieb der Website erforderlich sind und stets gesetzt werden. Andere Cookies, die den Komfort bei Benutzung dieser Website erhöhen, der Direktwerbung dienen oder die Interaktion mit anderen Websites und sozialen Netzwerken vereinfachen sollen, werden nur mit Ihrer Zustimmung gesetzt.
Diese Cookies sind für die Grundfunktionen des Shops notwendig.
"Alle Cookies ablehnen" Cookie
"Alle Cookies annehmen" Cookie
Kundenspezifisches Caching
Diese Cookies werden genutzt um das Einkaufserlebnis noch ansprechender zu gestalten, beispielsweise für die Wiedererkennung des Besuchers.
Matches only with "acrisCookie"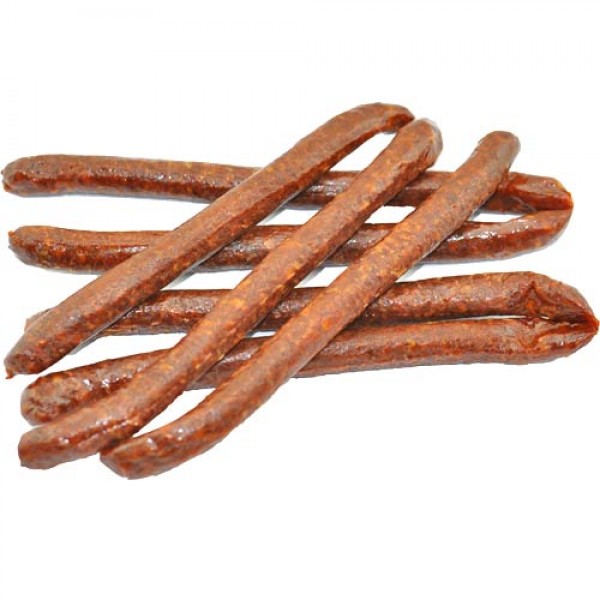 Dieser Artikel steht derzeit nicht zur Verfügung!
Dieser Artikel ist zurzeit nicht lieferbar. Wir benachrichtigen Sie gerne per E-Mail, wenn der Artikel wieder lieferbar ist.
Artikel-Nr.:

136

Schärfegrad:

5

Scharf
Schärfehinweis:

Von Kindern und schärfeempfindlichen Menschen fernhalten.
Chipotle-Peitschen - mit Original Chipotle Morita über Pekannussholz geräuchert Wem...
mehr
Chipotle Peitschen
Chipotle-Peitschen - mit Original Chipotle Morita über Pekannussholz geräuchert
Wem die Trockenwürste vom Metzger zu fad sind, muss unsere Chipotle-Peitschen probieren.
Herzhaft, pikant, rauchig-würzig, mit Original Chipotle Morita gewürzt, in zartem Naturdarm, mittelscharf.
Chipotle Morita sind rote Jalapenos, die über Pekannussholz geräuchert werden und dadurch einen herrlich nussigen Rauchgeschmack erhalten, der lange im Abgang erhalten bleibt.
Der ideale Snack für zwischendurch, als Proviant für unterwegs oder für die nächste Feier.
Passt auch gut zu einem kalten Bier.
Aus besten Zutaten exklusiv für uns produziert. Ohne künstliche Zusatzstoffe oder Geschmacksverstärker.
Die "Peitschen" sind gut abgehangen. Wer sie sehr trocken liebt, kann Sie bei Zimmertemperatur ein paar Tage aufhängen.
Länge ca. 15cm, Durchmesser ca. 1,5cm !
Haltbarkeit/Aufbewahrung
Unsere Chipotle Peitschen gehören zur Warengruppe der Dauerwürste und sind ungekühlt bis zum aufgedruckten MHD haltbar. Eingeschweißte Packungen sollten dennoch kühl und dunkel gelagert werden. Nach dem Öffnen der Packung können Sie die Peitschen an einem luftigen Ort aufhängen. Dabei trocknen die Würste nach.
Verwendungsvorschlag
In der Küche können sie in dünne Scheiben geschnitten als scharfer Pizza- oder als Brotbelag verwendet werden. Sie passen auch klein geschnitten wunderbar in Suppen oder Aufläufe.
Aufbewahrung: Solange die Chipotle-Peitschen eingeschweißt sind, können Sie sie im Kühlschrank aufbewahren. Nach dem Öffnen der Packung empfehlen wir Ihnen, die Peitschen bei Zimmertemperatur an einem luftigen Ort (z.B. in der Küche oder einem tro
58% Schweinebauch durchwachsen, 39% Schweinefleisch schier (Magerfleisch), Chipotle Chili...
mehr
Zutatenliste*
58% Schweinebauch durchwachsen, 39% Schweinefleisch schier (Magerfleisch), Chipotle Chili (Jalapeno, Rauch) 3%, Nitritpökelsalz E250, Ascorbinsäure, Gewürze, Reifekulturen
Naturdarm: Schafsaitling, Rauch
100g Chili Peitschen werden aus 125g frischem Schweinefleisch hergestellt.
Nährwerte
Brennwert kJ / kcal
1327 / 320
davon gesättigte Fettsäuren
10,2g
* Lt. Herstellerangaben und ohne Gewähr unsererseits. Bitte beachten Sie stets die Nährwerte auf dem Produkt.
Inverkehrbringer
Inverkehrbringer
Inverkehrbringer
Anschrift:
Holzweg 16
67098 Bad D&uumlrkheim
Deutschland
Bewertungen lesen, schreiben und diskutieren...
mehr
Kundenbewertungen für "Chipotle Peitschen"
Von:
Rapho
Am:
14.11.2019
Etwas zu frisch, aber gut
Ich ziehe zwei Sterne ab, da sie mir zu frisch sind. Geräucherte Würste müssen schön trocken und hart sein. Geschmacklich find ich sie allerdings super. Von Schärfe habe ich zwar nichts bemerkt, aber sie sind pikant gewürzt.
Von:
Richard Pichler
Am:
22.03.2019
Einsame Spitze - mit Bums ;)
Super gut. Wir sind hier bestimmt alle "Chili heads" und "zu scharf" gibt es nicht. Aber die Dinger haben echt power! Wir lieben sie! Als gebürtige Bayern ist Brotzeit Pflicht/Standard Abendessen. Die Chipotle Peitschen geben einen entsprechenden Twist dazu. Die Schärfe kommt hinten raus. So lange man isst, ist alles gut. Hört man auf, kommt die "Watschn". Die Wurst an sich ist absolut lecker. Gut geräuchert und gut gewürzt. Dazu der einzigartige Geschmack von Chipotle. Ich bestell gleich mal nach ;)
Von:
Donatas
Am:
31.07.2018
Nice taste
Very nice taste and hotness, although kinda disappointed how early was the expiration date
Von:
Klaus
Am:
07.02.2018
schön mild
Ich fand das Aroma ziemlich schwach. Habe eigentlich nur Wurst geschmeckt und die Schärfe. Bei den Varianten mit Habanero oder Jolokia schmeckt man mehr Aroma von den Chilies.
Mir gefällt es aber so absolut, lässt sich angenehm pur knabbern.
Die Angabe des MHD der aktuellen Charge im Shop wäre sinnvoll, da es doch recht nah in der Zukunft lag.
Top !
Super lecker, tolles Chipotle Aroma !
Von:
R.Witt
Am:
13.10.2016
Einfach Köstlich
Die Chipotle Peitschen sind aussen knackig und innen weich, die Würzung ist sehr gut abgestimmt und das Raucharoma von den Chipotles ist einfach super, von der Schärfe her sind sie sehr angenehm , einfach ein super gelungenes Produkt das ich bedenkenlos weiterempfehlen kann und auch öfter bestellen werde .
Von:
Sascha Aichholzer
Am:
30.09.2016
Absolut lecker und zur Empfehlung
Sehr lecker. Nicht zu scharf, sondern geniesbar. Mir schmeckt diese besonders gut, weil man noch Wurst schmeckt und das Insgesamt ist super. Bitte mehrere Produkte davon!
Von:
Roland Dötsch
Am:
31.08.2016
super
endlich mal eine gute Wurst die zwar scharf ist aber NICHT nur scharf , der sehr intensive rauchige Geschmack ist echt einzigartig , wird definitiv wieder bestellt !!!
Bewertung schreiben
Bewertungen werden nach Überprüfung freigeschaltet.
Rezepte, Infos und Produkte
Themenwelten